2017 RESIDENTIAL NATURAL GAS BOILER AND FURNACE CONVERSION INCENTIVES AS OF JANUARY 1, 2017
Incentives are valid for Connecticut Natural Gas Corporation (CNG) residential customers who purchase and install a qualifying natural gas boiler or furnace within the promotional period specified. CNG conversion incentives are only available to new CNG fuel switch customers. Rebate forms for CNG conversion incentives can be obtained from a natural gas sales representative. See rebate forms for complete details.
Boilers: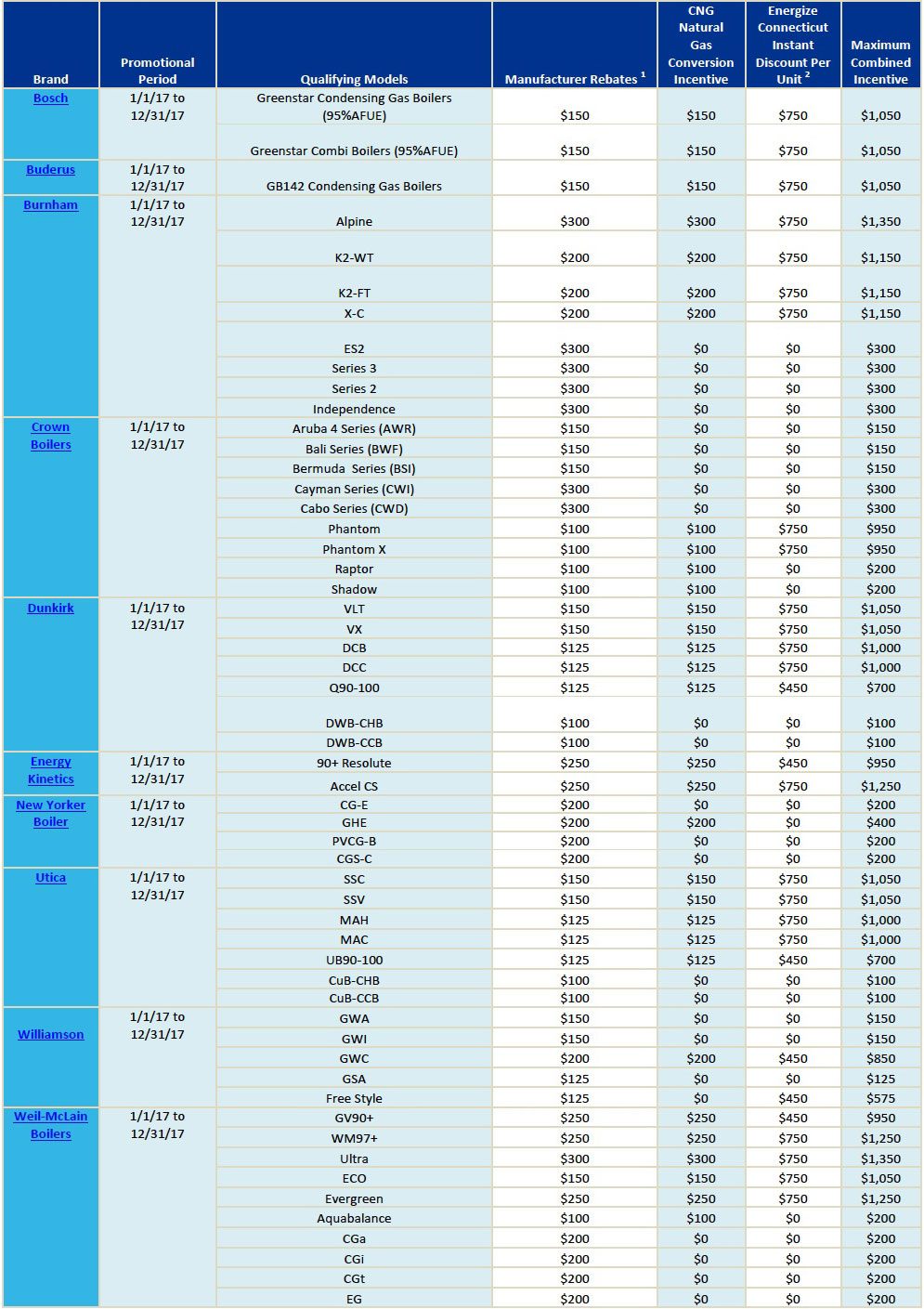 Furnaces:

Notes:
1 Additional Manufacturer specific conditions are as follows:
Crown Boilers: Qualifies for Mega-Stor indirect water heater rebate with Mega-Stor unit purchase.
Weil-McLain: Qualified equipment must meet Weil-McLain BTU/HR input requirements. See manufacturer redemption/rebate form for details.
2 Energize Connecticut models: Instant Discount Now Available. Participating HVAC and plumbing wholesale equipment distributors can now automatically apply the Energize CT instant discount to the price they charge the installation contractor purchasing qualified equipment, eliminating the need for a mail-in rebate for that unit. Instant Discounts are subject to funding availability and can change at any time without notice. Installation contractors can find a listing of participating equipment distributors offering the instant discount for residential customers online at EnergizeCT.com.
BOILERS: ENERGY STAR®certified, AHRI* Rated 90% AFUE** with Temperature Reset or Purge Control. Other brands and models not shown above may also qualify for the Energize Connecticut instant discount.

FURNACES: Only those that are ENERGY STAR certified with 95% AFUE or greater with ECM and AHRI rated. Other brands and models not shown above may also
qualify for the Energize Connecticut instant discount.
Call 1-877-WISE-USE (877-947-3873) to verify eligibility and efficiency meets the incentive requirements prior to purchase. ENERGY STAR certified equipment lists
can be found online by visiting ENERGYSTAR.gov/products.
*AHRI – Air-Conditioning, Heating, Refrigeration Institute: Ahridirectory.org.
**AFUE – Annual Fuel Utilization Efficiency
This listing is provided for informational purposes only. It is not an endorsement by Connecticut Natural Gas Corporation of the individual companies listed, products sold or services provided. Please refer to local directories for additional listings.